REQUIREMENTS TO ACHIEVE THE IMAGES
To most accurately represent the extent of a traffic jam, I chose to photograph the project from above, using a helicopter and a fixed-wing aircraft from different altitudes, ranging from 1500 to 5000 feet. However, the photographic representation of a large-scale traffic jam presents a technological challenge. In a 16 x 20 inch photograph, a one-mile stretch of freeway would be reduced to a thin line, radically reducing the visual impact if one cannot see the individual cars trapped on the freeway.
The ideal size would be a much larger, 6 x 8 foot print. Producing a print that size by enlarging small format film or by using a digital camera would unavoidably result in a pixilated mosaic or an image grainy beyond recognition. To most realistically convey the near-dystopian condition of our freeways, the photographs must be printed at the highest possible resolution. This is where I encountered the first of many challenges. These enormous prints require large-format
negatives to yield high-resolution details that cannot be achieved through any commercially available digital camera and – a possible solution – reconnaissance satellites, are inaccessible to me.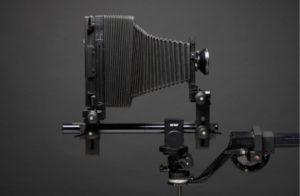 Traditional 8 x 10 cameras are not suitable for aerial shooting because the camera bellows, made out of soft vinyl or fabric, would collapse and block the transmission of light from the lens to the film plane. Additionally, the cameras tend be too heavy to be hand-held. The search for the right camera began: the series of cameras I encountered and created included Linhof Aero Technika, Fairchild K-17, Aero355, Linhof Aero 45EL and Aero810.