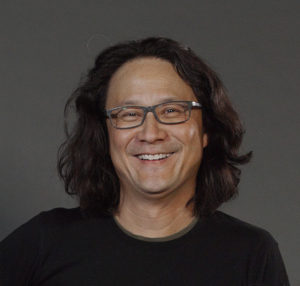 Benny Chan is an American photographer. He is known for his large format architecture Landscape and Aerial photographs, often employing a straight down point of view. Benny Chan has a studio in Los Angeles.
Education and Career
миниBenny Chan was born in Hong Kong in 1965. His life followed an eastward trajectory from Hong Kong to living in Hawaii, and finally settling in Los Angeles. Benny moved to Los Angeles with the intention of having a career as an architect, he earned a Bachelor of Architecture (B.Arch.) degree from the Southern California Institute of Architecture (SCI-Arc) in 1992. At SCI-Arc he was awarded the Henry Adams Student Award and the 1992 Paris Prize. Following graduation, Benny traveled to Europe to photograph exceptional architectural works. This travel reinforced his love for photography and combined his two primary interests: architecture and photography. He found that these two disciplines complemented each other in beneficial ways. His selection of works and their photographic documentation added an additional palette of textures and layers to Benny's work. After his travels, he returned to architecture and worked for Skidmore Owings & Merrill (SOM) and Neil M. Denari Architects (NMDA). The contrast between the two firms—SOM corporate and very large; NMDA cutting-edge and smaller in comparison—gave Benny an overview of what was available to him as a practicing architect. Eventually, Benny made the decision to devote himself full-time to photography, and to that end, established his Los Angeles-based practice Fotoworks [1]. in 1993.
мини In 2012, Benny Chan has finished work on more than 250 photos for the book Paul R. Williams: Classic Hollywood Style [2], which covers the 60-year career of the first African-American architect in the US. This work is a tribute to the architect who worked in conditions of racial discrimination.
Professional work
Benny has been shooting commercially for over twenty-five years. He is best known for his large format, highly detailed, architectural photographs. He collaborates with leading architects, working on avant-garde projects of all scales, both residential and commercial. Benny's work is in high demand and often takes him to international locations. Despite the different requirements a project may have, his approach is the same. Benny's architectural training uniquely positions him to evaluate how space and structure (three-dimensional) will translate to a photograph (two-dimensional). An additional benefit of studying architecture is that Benny is cognizant of choosing the correct angle and perspective and the ways in which lens choices can change and enhance a view for the optimal graphic representation. In 2018, Benny received the prestigious Julius Shulman Institute Excellence in Architecture Award [3]. The award was established to promote an understanding and appreciation of photography of the built environment. Previous recipients include Iwan Baan, Richard Barnes, Pedro E. Guerrero, Catherine Opie, Grant Mudford, Hélèle Binet, James Welling, and Todd Eberle. Benny's work is included in international and national publications such as Interior Design, Frame, Domus, Architectural Digest, International Architecture Yearbook, 21st Century Architecture Designer Houses, Paul R. Williams: Classic Hollywood Style, and Engines of Information: Big Data from Small Buildings, among others.
In commercial activities, Benny Chan is collaborating with the leading architects of Los Angelis, San Francisco, New York etc. for the presentation of the best examples of modern architecture in magazines and books, to participate for customers and in professional competitions.
Fine artworks
Benny balances his professional career with his interest in fine art photography. His approach to his commercial and fine art work is fundamentally the same. He works in a large format to produce highly detailed images. An example of Benny's relentless passion to achieve his best work is a custom camera he designed and had manufactured so he could suspend himself from a helicopter to photograph the Los Angeles freeways. In his artistic work, Benny strives to create images that stand out in a world increasingly overloaded with visual stimulation. He uses his camera to represent his impressions about the world we inhabit and to illustrate contemporary political and social issues. In some cases, the scale of the images confronts the viewer and illustrates threats to our continued existence such as climate change, resource shortage, increasing poverty, etc. It is Benny's hope that 'seeing' is the first step toward taking action. Benny sees Los Angeles as a mega-scale metropolis, at once utopic and dystopic in filmic representation—the lens through which much of the world views the city. It is the subject matter of many of Benny's fine artworks and they reflect this duality. His Traffic project, for example, is shot from an omniscient point of view—a view to which the average person would never have access. The images employ rush-hour traffic as the symbol for both an unusual source of beauty and the penalty that Los Angeles has paid for not anticipating its inevitable growth. The diversity of subject matter ranges from extraordinarily large (infrastructure) to small (laundromats for example). This stems from Benny's desire to explore the world from the micro- to macro levels, from large to small, from a distance to a more intimate scale.
Awards
Julius Shulman Institute Excellence in Photography Award 2018